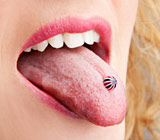 Whether you think they're the height of fashion or the depth of "ice," oral piercings like tongue bolts are a sign of our times. But along with these bodily adornments come a host of questions about risks to the wearer's health, both immediate and long-term. To help sort out these concerns, here are five facts everyone ought to know about oral piercings.
Oral piercings can cause acute health problems.
Rarely, nerve problems may result from an oral piercing. In at least one case, a teenager who had just gotten a tongue bolt developed severe facial pain and the feeling of electrical shocks. A neurologist traced these symptoms to an irritated nerve in the tongue, and the bolt's removal made the pain go away. More commonly, however, the immediate problems are soreness in the area of the piercing, bleeding in the mouth, and the risk of infection.
Oral piercings can lead to gum disease.
Periodontal problems associated with oral piercings include gum recession, inflammation, and even infection. Long-term bone loss may also be an issue. Over time, all of these conditions may affect a person's general health.
Oral piercings can lead to tooth problems.
Tooth pain and sensitivity are sometimes reported after the installation of an oral piercing. Chipping of the teeth is also a possibility, due to repeated contact with the metal of the ornament. People who decide to wear oral piercings should consult with us about increasing the frequency of their dental checkups.
Closing the hole left by a tongue piercing may require minor surgery.
As is the case with an ear piercing, the hole made for a tongue bolt often closes on its own. If it doesn't, a little surgery may be required to help it. In some cases, the tissue around the piercing may need to be removed before the hole itself can be sewn closed. Carried out under local anesthesia (a numbing shot), however, the procedure is usually simple and quick to heal.
Removing an oral piercing improves your oral health.
Losing the piercing reduces your risk factors, and thus improves your oral health. It's as simple as that. But any decision about oral piercings is ultimately yours to make. You should have a frank conversation about its risks and benefits with a knowledgeable health professional.
If you would like more information about oral piercings, please contact us or schedule an appointment for a consultation. You can also learn more about this topic by reading the Dear Doctor magazine articles "How Oral Piercings Affect Your Oral Health," and "Body Piercings and Teeth."