Posts for: October, 2014
By Mortimer Family Dentistry
October 24, 2014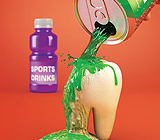 Look around and you'll find warning labels on lots of household items: alcoholic beverages, drain uncloggers, pesticides and pool toys (not to mention cigarettes and chainsaws). Now, California lawmakers are proposing to add one more item to the list: sugary soft drinks. A bill to that effect recently passed the California state Senate, and is presently headed to the Assembly. If approved by both houses and signed by the governor, it would require sugary beverages to carry a warning label.
The proposed label would read: "STATE OF CALIFORNIA SAFETY WARNING: Drinking beverages with added sugar(s) contributes to obesity, diabetes, and tooth decay." It would appear on drink packaging and vending machines. While some may feel it's an infringement on personal choice, recent polling seems to show that the tide of public opinion may have turned toward recognizing the potential health dangers of sugary drinks.
How real are those dangers? The medical groups sponsoring the bill (including the California Medical Association) point to numerous scientific studies showing, among other things, that:
Drinking one soda per day increases an adult's likelihood of being overweight by 27 percent — and for a child, the likelihood is doubled!
Drinking one or two sodas per day increases the risk of developing type II diabetes by 26 percent.
People who drink two to three sodas per day are 2.75 times more likely to have a heart attack.
Drinking sugary beverages daily for only two weeks increases LDL ("bad") cholesterol and triglyceride levels by 20 percent; over a longer period, it has even worse effects.
Children who consume sugary beverages are much more likely to develop tooth decay.
No matter where you stand on the debate over warning labels, you should understand the potential dangers of consuming foods and beverages with added sugar. For years, dentists have been cautioning people to limit their intake of sugary treats, including sodas and other sweets. Initially, our warnings came from the standpoint of oral health. Now, we have evidence that many other health problems have the same cause. We want to share this information with you because we're concerned about your overall health — not just your oral health. You can learn more by reading the Dear Doctor magazine article "Think Before You Drink."
By Mortimer Family Dentistry
October 09, 2014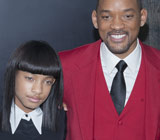 Her parents Will and Jada are Hollywood royalty, who helped her land her first acting role when she was 7. She released a hit single, "Whip My Hair," before she had quite reached the age of 10; shortly afterward, she was signed to a record label. Yet the young singer and actress Willow Smith has at least one thing in common with plenty of 'tweens and teens across America: She needed to wear braces to correct problems with the alignment of her teeth.
Why do braces seem to be a part of growing up for so many kids? One answer is because they work so well. Braces apply gentle pressure to the teeth through a thin, flexible wire called an archwire. Attached to the teeth with a metal or ceramic bracket, the archwire exerts a light force which causes teeth to gradually move into better positions. Sometimes, when additional force is needed, elastic bands or other appliances may be used in conjunction with braces.
Most everyone is familiar with the silvery metal "tracks" of traditional braces. But did you know that there are a number of other options too? For a more inconspicuous look, you may be able to have braces with tooth-colored ceramic brackets; then, only the thin archwire will be visible in your mouth. It's even possible in some cases to place the metal wires and brackets on the tongue side of the teeth. With this system, called lingual braces, the orthodontic hardware is truly invisible.
What if you didn't need metal braces at all? Some people can get good results using a system of clear plastic aligners instead of braces. The aligners are worn 23 hours a day, but can be taken off for cleaning and for important events. They work best for correcting mild or moderate alignment problems.
Still, plenty of people feel that if they're going to wear braces, they might as well flaunt them. That's why some types of braces are available with bands that come in different colors. When Willow's brother Jayden wore braces, he was reported to favor red and black ones. Jayden, who is about two years older than his sister, had his braces removed just before Willow got hers put on.
So if it turns out that you need braces, remember that lots of your favorite celebrities wore them too. And keep in mind that, depending on your own situation, you may have several options to choose from.
If you would like more information about braces or orthodontic treatment, please contact us or schedule an appointment for a consultation. You can learn more by reading the Dear Doctor magazine articles "The Magic of Orthodontics" and "Orthodontics for the Older Adult."