Posts for tag: common symptoms
By Mortimer Family Dentistry
February 17, 2013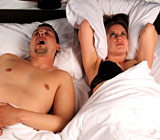 Nearly everyone is familiar with snoring, having either been awakened by a snoring, sleeping partner or by snoring so loudly that you wake yourself up. As if the sounds emanating from snoring weren't bad enough, snoring is no laughing matter and should never be ignored. And why? It can be a sign of other health issues.
Snoring occurs when the soft tissue structures of the upper airway (the back of your throat) collapse onto themselves, the tongue drops back and air is blocked in its movement through the mouth and nose into the lungs. These obstacles cause a vibration that produces the snoring sound. Snoring can also be caused by large tonsils, a long soft palate, a large tongue, the uvula (the tissue in the back of the throat that dangles like a punching bag), and/or fat deposits.
If snoring is more severe, it may denote a medical condition called Obstructive Sleep Apnea (OSA; or just "sleep apnea"). It occurs when the upper airway collapses causing significant airflow disruption or even no airflow whatsoever for 10 seconds or more and can leave you feeling tired, depressed, irritable, as well as cause memory loss and poor concentration. But have no fear; you are not alone, as millions of people worldwide have been diagnosed with this condition. There are also numerous treatment options that we can discuss with you — should you be diagnosed with this problem.
You can learn more about sleep apnea by reading the Dear Doctor article, "Snoring & Sleep Apnea." Or if you are ready for a thorough examination and to discuss your snoring, contact us today to schedule a consultation.
By Mortimer Family Dentistry
September 26, 2012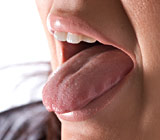 Considering that over 90 million Americans suffer from chronic bad breath and everyone else has dealt with some form of it at one time or another, we want to address some common causes and cures so you are prepared if it happens to you.
What are the most common causes of bad breath?
Halitosis or bad breath most often occurs when you have poor oral hygiene and/or routinely consume odorous foods and drinks. In fact, 90% percent of mouth odors come from the food you eat or bacteria that's already there, according to the American Dental Association. Other causes for halitosis include:
Excessive bacterial growth in the mouth and especially on the tongue
Known and characteristically odor producing foods and drinks such as onions, garlic, coffee, tobacco and alcohol products
Diabetes and diseases of the liver and kidneys
A poorly hydrated body (and mouth) from not drinking enough water everyday
What should I do if I feel (or people tell me) I have chronic bad breath?
Contact us to schedule an appointment for a proper diagnosis and plan of action for returning your mouth to optimal health.
What are some tips I can do to prevent occasional bad breath?
In most cases, bad breath is totally preventable when you follow the tips below:
Brush your teeth in the morning and at bedtime using a fluoride toothpaste and a proper (and gentle) brushing technique.
Floss your teeth at least once a day.
Clean your tongue after brushing your teeth with either a scraping tool you can purchase at a drug or discount store or by gently brushing it with your toothbrush.
Keep your mouth moist by drinking plenty of water during the day.
Be prepared by having some mouth cleaning tools (floss, a toothbrush, toothpaste or some sugar free gum) handy to freshen your mouth after consuming bad smelling foods, drinks or using tobacco or alcohol.
Eat fresh fruits and vegetables to increase saliva production in your mouth and help remove food particles that can lodge between teeth.
Maintain regular dental check-ups.
Want to learn more?
Contact us today to discuss your questions or to schedule an appointment. You can also learn more about halitosis by reading the Dear Doctor article, "Bad Breath — More than Just Embarrassing."
By Mortimer Family Dentistry
August 23, 2012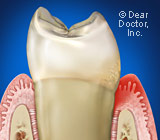 Periodontal or gum disease is an often silent disease that can cause significant damage to the health of your teeth and body. The reason it is so often classified as a silent disease is because it is chronic or longstanding and often without any symptoms or pain that most people associate with a disease until it may be too late.
If you think you may have gum disease, here is what to look for:
Bleeding gums — probably one of the most common and overlooked early warning signs that most people ignore is thinking that the bleeding is being caused by brushing their teeth too hard. The truth is that you would have to brush extremely hard to cause healthy gum tissues to bleed.
Bad breath — something everyone has experienced; however, it can also be a warning sign of periodontal disease. This is especially true for people who hate or refuse to floss their teeth, thereby trapping literally billions of bacteria where they love to collect in the protected areas between the teeth.
Redness, swelling, and/or receding gums — all signs of gum disease often accompanied by sensitivity of the gum tissues around the teeth.
Chronic inflammation — long-standing gum inflammation is a sign that your gum tissues are not healing properly. Periodontal disease exhibits periods with bursts of activity followed by periods where the body tries to recover.
Loose and/or moving teeth — that seem to be drifting into a new position, are visible signs that you are highly likely to have periodontal disease.
Abscess formation — late stage gum disease is characterized by painful, swollen, red pockets of pus, which denotes an acute localized periodontal infection.
If you have any of these signs, you need to make an appointment for a thorough evaluation. Otherwise, you could end up losing your teeth to the second most common disease known to man after tooth decay. To learn more about gum disease, continue reading, "Warning Signs of Periodontal (Gum) Disease." Or, contact us today to schedule an appointment.