Posts for tag: teeth whitening
By Mortimer Family Dentistry
December 19, 2014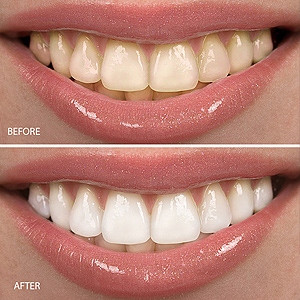 Bright, naturally white teeth are a key component in a beautiful smile. But the opposite is also true: nothing diminishes an otherwise attractive smile more than stained or discolored teeth.
There is good news, however, about tooth staining: it can be greatly reduced with the right whitening technique. But before taking action we need to first uncover the cause for the staining — whether from the outside or inside of the tooth, or a combination of both.
If it's an external cause — known as extrinsic staining — our diet is usually the source. Foods and beverages that contain tannins, like red wine, coffee or tea fall in this category, as do foods with pigments called carotenes as found in carrots and oranges. Besides limiting consumption of stain-causing foods and maintaining daily oral hygiene, you can also diminish extrinsic staining with a bleaching application.
There are two basic ways to approach this: with either a professional application at our office or with a home kit purchased at a pharmacy or retail store. Although both types use similar chemicals, the professional application is usually stronger and the whitening effect is obtained quicker and may last longer.
Discoloration can also occur within a tooth, known as intrinsic staining, and for various reasons. It can occur during tooth development, as with childhood overexposure to fluoride or from the antibiotic tetracycline. Poor development of enamel or dentin (the main sources of natural tooth color), tooth decay, root canal treatments or trauma are also common causes of intrinsic discoloration.
There are techniques to reduce the effects of intrinsic staining, such as placing a bleaching agent inside the tooth following a root canal treatment. In some cases, the best approach may be to restore the tooth with a crown or porcelain veneer. The latter choice is a thin layer of dental material that is permanently bonded to the outer, visible portion of the tooth: it's life-like color and appearance covers the discoloration, effectively renewing the person's smile.
If you've been embarrassed by stained teeth, visit us for a complete examination. We'll recommend the right course of action to turn your dull smile into a bright, attractive one.
If you would like more information on treatments for teeth staining, please contact us or schedule an appointment for a consultation. You can also learn more about this topic by reading the Dear Doctor magazine article "Teeth Whitening."
By Mortimer Family Dentistry
July 19, 2012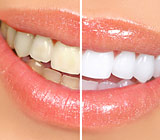 What causes stains on teeth?
Staining can occur on the outside surfaces of teeth and is caused by foods such as red wine, coffee, and tea, as well as by tobacco use. They can also be developmental, affecting the structure of the teeth due to excessive fluoride levels or from tetracycline antibiotics given during childhood to name a few. Changes in a tooth's enamel or dentin during tooth formation, or as teeth age, can also cause discoloration.
What is going on inside a tooth's structure that makes it look stained?
Most of a tooth's covering (95 percent) is composed of highly mineralized enamel. The crystals of enamel are contained in a framework, or matrix, of organic matter. Dentists believe that various organic compounds that get into this matrix can cause staining.
How do whiteners work?
Tooth whiteners or bleaches expose the teeth to a peroxide compound. This creates reactive oxygen that breaks down highly colored organic compounds within the tooth's sub-surface matrix, making the tooth look whiter, but without changing its internal structure.
What professional in-office whitening techniques are available?
During treatment, a high concentration of peroxide solution in the form of a gel is applied directly on the teeth, often with activation by a heat or light source. These systems use custom tailored trays fitted to an individual's mouth. Silicone barriers or protective gels are used to keep the peroxide gel away from the gums or sensitive membranes in the mouth.
How are professional home whiteners different?
Home whiteners involve a less concentrated solution of peroxide in a gel form. It is delivered to the tooth surface by a bleaching tray that is custom-made in your dentist's office. Over-the-counter whiteners such as whitening strips or paint-on formulas can also be used, but they take longer and they're not as effective — the more diluted solutions are used for safety.
Can toothpastes really whiten teeth?
Mild abrasives in toothpastes clean surface stains but cannot change the underlying tooth color or remove significant staining.
How long do the results last?
Usually, the results last from six months to two years, but effects will diminish over time. You can make them last longer by avoiding the foods and habits that cause staining.
Are teeth whiteners safe to use?
Teeth whitening products are safe if used according to our recommendations or the product manufacturer's directions. Peroxide products may be toxic if used in excess of recommended intervals and amounts.
Read more about teeth whitening in the article "Teeth Whitening, Brighter, Lighter, Whiter..." Contact us today to schedule an appointment or to discuss whether tooth whitening is right for you.