Posts for: October, 2012
By Mortimer Family Dentistry
October 26, 2012
Root canal, or endodontic ("endo" – inside; "dont" – tooth) treatment, is often wrongly perceived as a highly unpleasant experience and one that causes tremendous pain. However, the truth is that the procedure actually relieves the pain being caused by an infected and inflamed tooth pulp (inside of the tooth). Advances in dentistry have made treatment virtually pain free and it can be completed relatively quickly, usually in a single visit. Left untreated, infection can spread into the bone immediately around the tooth's root, so prompt attention is the best course of action.
If the term "root canal" still sends shivers down your spine, don't despair. Here is some information that should help put your mind at ease.
Root canal treatment is necessary when deep decay or trauma has caused the inside (pulp) of the tooth to become inflamed or infected. Symptoms of infection can include sharp pain when biting down, lingering pain after consuming very hot or cold foods, a dull ache and feeling of pressure near the infected tooth, and tender gum tissue surrounding the infected tooth.
After a local anesthetic is administered to numb the infected tooth and its surrounding area, we will make a small opening on the chewing surface of the tooth. This will allow us to remove dead and dying tissue from the pulp and to then clean and disinfect the root canals. Using small instruments, we will shape the canals and seal them with biocompatible filling materials.
You may feel slight tenderness at the treated site for a few days, but this is quite manageable and can be relieved with over-the-counter (OTC) non-steroidal, anti-inflammatory pain relievers such as aspirin or ibuprofen. You should refrain from chewing on the treated tooth until your follow-up appointment. A crown or other restoration may be needed to protect the tooth and restore it to full function.
If you think you might be a candidate for a root canal treatment, schedule an appointment as soon as possible. If you would like to learn more about the process of root canal treatment, please read the Dear Doctor magazine article "Common Concerns About Root Canal Treatment."
By Mortimer Family Dentistry
October 11, 2012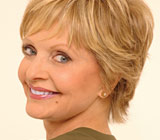 Life lessons are learned in the most surprising places. This is no different for celebrities. Take, for example, Florence Henderson, an actress, singer, philanthropist, author and star of the hit television series, The Brady Bunch. As she told Dear Doctor magazine, her experience with having four impacted wisdom teeth removed — at the same time — "...only made me more aware of how important dental care is." She continued, "This is why I have always gone every six months for a check up."
Another important lesson we want to share is the fact that even if your impacted third molars (wisdom teeth) are not bothering you or causing any pain, you may still need to have them removed.
Why? Having a tooth submerged below the gum, pressing on the roots of other teeth is problematic; the tooth should be removed so that you can avoid major dental problems before they occur. For example, it is not uncommon for us to find an impacted third molar pressing against the roots of the adjacent second molar. Furthermore, because the enamel crown of this impacted tooth is trapped below the gum, we sometimes find an infection, gum disease or even cyst formation occurring.
Often, the best time to remove a wisdom tooth is when it is not causing any problems. This is because a painful wisdom tooth or pain in the area of the wisdom tooth may be a sign that significant damage has occurred or is occurring. It is also better to remove wisdom teeth when you are young, as young healthy people with no prior infections at the site provide the best opportunity for us to remove the tooth with no complications.
To learn more about impacted wisdom teeth, continue reading the Dear Doctor magazine article "Removing Wisdom Teeth." Or if you suspect or already know that you have an impacted wisdom tooth, contact us today to schedule an appointment so that we can conduct a thorough examination that includes x-rays. During this private consultation, we will also address any questions you have as well as your treatment options. And if you want to read the entire article on Florence Henderson, continue reading "Florence Henderson."