Dentist in Burton, MI
All our professionals at Mortimer Family Dentistry maintain the highest levels of accreditation and pursue ongoing education to give our patients the best possible dentistry.
Allen Mortimer, D.D.S.
Burton, MI Dentist
Mortimer Family Dentistry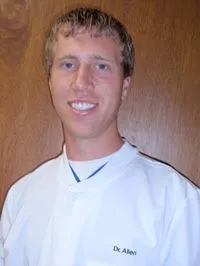 After completing his undergraduate degree from University of Michigan-Flint (2008), Allen graduated from Baylor College of Dentistry (Dallas, Texas) in May 2012. Allen's dental goal had been working alongside his father, Scott, and he is thankful to offer quality and compassionate care to his patients. Some of his achievements and activities in dental school included:
General dentistry award
Dean's list (2008-2012)
Graduated in the top 10
Odontological Honor Society
As a professional, Allen and his father are committed to continued education and are active members of Genesee District Dental Society (GDDS).
Allen and his wife married in 2008 and are raising three young children. Outside of the office, Allen enjoys time with family, serving at their church (choir, usher, sound system, youth group leader, treasurer), and watching or playing sports.
Dr. Allen Mortimer is excited to be able to serve at Mortimer Family Dentistry and continue the tradition of relevant, friendly, and proficient care for every patient.
Scott Mortimer, D.D.S.
Burton, MI Dentist
Mortimer Family Dentistry
Scott graduated from the University of Michigan Dental School in 1986. He practiced with his father Dr. Wayne Mortimer until 1993, when Wayne passed away, after 35 years of practice.
Scott has been involved with many aspects of Dentistry, and involved in the community including:
Modern Mobile Dentistry served home bound patients in Genesee and surrounding counties, until 1993.
Taught Dental Hygiene students at Mott Community College.
Past President of the Grand Blanc Rotary Club.
Served on the Genesee District Dental Society Board of Directors.
Served the Michigan Dental Association in the House of Delegates.
Many hours of continuing education.
Scott married his beautiful wife in 1985, and is the proud father of two wonderful sons. Their oldest son Allen has just joined Mortimer Family Dentistry. Scott enjoys spending time with family and friends, singing in the choir at church, and serving in many different roles. Other interests include golfing, gardening, reading, and sailing.
Dr. Scott enjoys Dentistry, being able to help patients with their health care needs and creating beautiful smiles. He is looking forward to many more years of serving patients and working with his son Allen at Mortimer Family Dentistry with friendly, caring, and compassionate care.