Posts for: November, 2012
By Mortimer Family Dentistry
November 26, 2012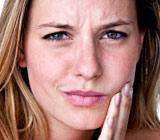 Temporomandibular Disorder (TMD), which was formerly known as Temporomandibular Joint Disorder (TMJ), is a condition that is unusual in that it frequently is quite hard to diagnose, because it often mimics many other conditions. For this reason, many healthcare professionals refer to it as "the great imposter." The condition arises when there are problems inside the temporomandibular joint and the muscles that attach to it causing pain. The pain is most often due to muscle spasm, thereby limiting the ability to open and close the jaw and to function normally. TMD can impact anyone and has a wide range of similar symptoms.
One of the common causes of TMD is stress, and it may manifest itself through clenching or grinding of teeth while awake or asleep. These habits are often completely subconscious until pointed out by a dental professional or sleeping partner. With stress-induced TMD, the pain often comes and goes in cycles. In other words, it may be present when you are stressed, seem to disappear for a while, and then reappear when you are stressed again. Another cause of TMD can be from an injury or trauma, such as a blow to the jaw. However, regardless of the cause of TMD, the pain is real and needs to be treated properly.
If you feel that you might have TMD, please let us know so that we can address your concerns, starting with a full history and conducting a thorough examination. Or if you are in constant or severe pain, contact us immediately to schedule an appointment. You can learn more about the signs, symptoms, and treatment options for TMD by reading "TMD — Understanding The Great Imposter."
By Mortimer Family Dentistry
November 08, 2012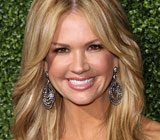 When her daughter Ashby was born in 2007, Nancy O'Dell was overjoyed; but she found the experience of pregnancy to be anxiety-provoking. O'Dell is host of the popular entertainment news show Entertainment Tonight.
After her baby was born she compiled her memories and thoughts into a book for first-time pregnant mothers. The book, "Full of Life: Mom to Mom Tips I Wish Someone Had Told Me When I Was Pregnant," covers a wide range of topics — including oral health during pregnancy.
"While my dental health has always been relatively normal, pregnancy did cause me some concern about my teeth and gums. With my dentist's advice and treatment, the few problems I had were minimized," O'Dell told Dear Doctor magazine. An example of her experience is a craving for milk that started at about the time the baby's teeth began to form. She felt that her body was telling her to consume more calcium.
As often happens with pregnant mothers, she developed sensitive gums and was diagnosed with "pregnancy gingivitis," the result of hormonal changes that increase blood flow to the gums.
"I love to smile," said O'Dell, "and smiles are so important to set people at ease, like when you walk into a room of people you don't know. When you genuinely smile you're able to dissolve that natural wall that exists between strangers."
Contact us today to schedule an appointment to discuss your questions about dental health during pregnancy. You can also learn more by reading the Dear Doctor magazine article "Nancy O'Dell."