Posts for: September, 2014
By Mortimer Family Dentistry
September 23, 2014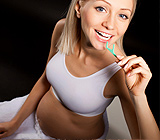 Periodontal (gum) disease is a bacterial infection that can eventually lead to tooth loss if not treated. The infection typically arises from plaque, a thin film of bacteria and food particles that build up on tooth surfaces every 8-12 hours and not removed due to poor oral hygiene.
There is always an increased risk of gum disease when a person doesn't practice effective oral hygiene. But there are certain conditions that could also heighten risk: in particular, women who are pregnant (especially during the first trimester) or taking certain types of birth control pills. During pregnancy, female hormones known as estrogens become elevated, causing changes in the gums' blood vessels. These changes make the tissues fed by these vessels more susceptible to the effects of bacteria. This increased susceptibility even has a term — "pregnancy gingivitis."
Gum disease during pregnancy can also affect other areas of a woman's health, as well as the health of her baby. Recent studies have shown a possible link between pre-term low weight babies and mothers with severe gum disease, especially among those with limited dental healthcare. There's a stronger link, however, between gum disease and diabetes; in fact, diabetes should be checked for in pregnant women who are diagnosed with gum disease.
If you're pregnant, it's especially important that you not neglect oral hygiene. Daily brushing and flossing is essential for removing the bacterial plaque that causes gum disease. You should also visit us for regular checkups and cleanings to remove hard to reach plaque and calculus (hardened deposits), as well as to detect any signs of periodontal disease.
You should also be aware of other factors, and take steps to minimize their effect. Smoking can cause greater plaque accumulation as well as adversely affect your immune system, which can inhibit healing in infected tissues. Stress can also affect your immune system, so be sure you're getting enough rest.
Gum disease in any individual has the potential to cause great damage to teeth and gums. If you notice any abnormalities, particularly bleeding or swelling gums, you should see us as soon as possible for proper diagnosis. In the case of gum disease, the sooner treatment begins the better the chances of protecting both your health and your baby's.
If you would like more information on periodontal disease and pregnancy, please contact us or schedule an appointment for a consultation. You can also learn more about this topic by reading the Dear Doctor magazine article "Pregnancy & Birth Control."
By Mortimer Family Dentistry
September 08, 2014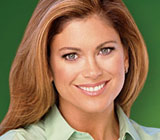 It is not often that you find a celebrity who is willing to speak candidly about any cosmetic or restorative dentistry that he or she has had. Instead, most prefer that their fans just assume that their dazzling "Hollywood" smile is something that just happened naturally. However, that is not the case with Kathy Ireland, the former Sports Illustrated cover girl, current business mogul and founder of kathy ireland Worldwide, a billion dollar marketing and design firm. In a Dear Doctor magazine cover story she talks openly about her dental experiences, injuries and treatment so that people worldwide can understand what may be possible for them.
For Kathy, it happened several years ago when she was playing with her husband and children in their driveway. Kathy decided that she would stand in her children's wagon and surf across their driveway. Instead, she ended up "face-planting," as she describes it, in a freak accident that left her with a broken nose, split forehead and several broken teeth. She recalls that it sounded like a watermelon had smashed. Luckily, her husband, an emergency room physician, was on hand to care for her. Kathy is just as thankful to her cosmetic and restorative dentist who restored her trademark smile with some veneers and a dental implant. Today, the only reminder she has from this accident is a small scar on her nose that she covers with a little makeup.
You would think that this accident would be enough trauma for one person; however, Kathy describes an earlier accident where she knocked out a tooth and then later knocked it loose again. Kathy also wanted to take the time to let readers know that her dental implant experiences were "pretty easy." She did recall, "hearing all the sounds while all of it was going on" and then added, "but I have to tell you, that after being a mom and having kids, going to the dentist...is like going to the spa!" She said that she has even fallen asleep in the dental chair.
To learn more about Kathy Ireland, continue reading the Dear Doctor magazine article "Kathy Ireland." Or if you think cosmetic or restorative dentistry is right for you, contact us today to schedule an appointment to discuss your specific goals.