Posts for: November, 2015
By Mortimer Family Dentistry
November 26, 2015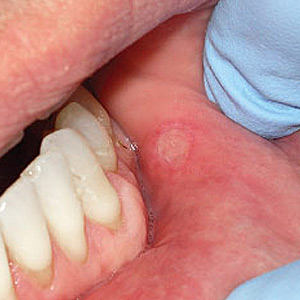 Do you ever get sores in your mouth that seem to appear for no reason and then disappear just as mysteriously? Chances are they're aphthous ulcers — better known as canker sores.
These are irritating breaks in the protective lining of the mouth (oral mucosa) — akin to a blister without its dome — that are yellowish/grayish in the center surrounded by an aggravated red border. They typically develop in movable, thinner oral membranes such as the cheeks and lips, under the tongue, or the soft palate at the back of the mouth. Because they expose underlying tissues, canker sores can be quite painful, especially when eating or drinking.
Recurrent aphthous ulcers (RAS) affect up to 25% of the population, making them one the most common oral conditions. They are considered "minor" when they are smaller and "major" when they exceed 1 centimeter in diameter. Larger ones take more time to heal and may cause scarring. A less common type is herpetiform aphthae, so named because the small clusters of ulcers that characterize it are similar in appearance to those caused by the herpes simplex virus (HSV1). However, unlike herpes-related cold sores and fever blisters, canker sores in any form are not contagious. Another difference is that ulcers from the herpes virus occur more frequently on the gums and hard palate.
No Clear Cause
There is no clear cause for canker sores. They often appear during stressful periods and times when resistance is down, suggesting an immune system malfunction. They may also be an allergic reaction to ingredients in food or oral products like toothpaste or mouthwash or related to an underlying medical conditions such as gastrointestinal diseases or nutritional deficiencies.
Canker sores usually resolve on their own within seven to ten days. Various over-the-counter and prescription treatments can help facilitate healing and help minimize pain along the way. If they do not resolve within two weeks; or they increase in severity, frequency or duration; or you're never without a mouth sore it's important to seek dental or medical attention as they could signify a more serious condition.
If you would like more information about canker sores, please contact us or schedule an appointment for a consultation. You can also learn more about the subject by reading the Dear Doctor magazine article "Mouth Sores."
By Mortimer Family Dentistry
November 11, 2015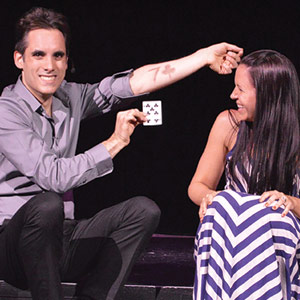 Magician Michael Grandinetti mystifies and astonishes audiences with his sleight of hand and mastery of illusion. But when he initially steps onto the stage, it's his smile that grabs the attention. "The first thing… that an audience notices is your smile; it's what really connects you as a person to them," Michael told an interviewer.
He attributes his audience-pleasing smile to several years of orthodontic treatment as a teenager to straighten misaligned teeth, plus a lifetime of good oral care. "I'm so thankful that I did it," he said about wearing orthodontic braces. "It was so beneficial. And… looking at the path I've chosen, it was life-changing."
Orthodontics — the dental subspecialty focused on treating malocclusions (literally "bad bites") — can indeed make life-changing improvements. Properly positioned teeth are integral to the aesthetics of any smile, and a smile that's pleasing to look at boosts confidence and self-esteem and makes a terrific first impression. Studies have even linked having an attractive smile with greater professional success.
There can also be functional benefits such as improved biting/chewing and speech, and reduced strain on jaw muscles and joints. Additionally, well-aligned teeth are easier to clean and less likely to trap food particles that can lead to decay.
The Science Behind the Magic
There are more options than ever for correcting bites, but all capitalize on the fact that teeth are suspended in individual jawbone sockets by elastic periodontal ligaments that enable them to move. Orthodontic appliances (commonly called braces or clear aligners) place light, controlled forces on teeth in a calculated fashion to move them into their new desired alignment.
The "gold standard" in orthodontic treatment remains the orthodontic band for posterior (back) teeth and the bonded bracket for front teeth. Thin, flexible wires threaded through the brackets create the light forces needed for repositioning. Traditionally the brackets have been made of metal, but for those concerned about the aesthetics, they can also be made out of a clear material. Lingual braces, which are bonded to the back of teeth instead of the front, are another less visible option. The most discrete appliance is the removable clear aligner, which consists of a progression of custom-made clear trays that reposition teeth incrementally.
How's that for a disappearing act?!
If you would like more information about orthodontic treatment please contact us or schedule an appointment for a consultation. You can also learn more about the subject by reading the Dear Doctor magazine article "The Magic of Orthodontics."